no added sugar • no preservatives
no added flavour • no added colour
no sugar alcohols • no soy or gluten
no artificial sweeteners
no false claims • no half-truths
and no hidden * marks either
What's inside
swipe to see more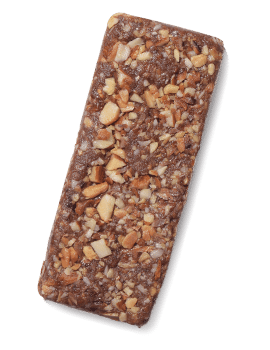 Almond Choco Fudge
dates

40%

cashews

31%

cocoa

16%

almonds

13%

100%
Cocoa Cranberry Fudge
cashews

30%

dates

25%

cranberries

18%

cocoa

15%

almonds

12%

100%
Nutritional Facts
serving size = 1 bar (40g) approx. values per serving
Energy

201.0 kcal

Protein

5.2g

Carbohydrate

20.7g

Added Sugar

0.0g

Natural Sugar

9.1g

Dietary Fibre

4.4g

Fat

13.9g
Energy

195.0 kcal

Protein

4.8g

Carbohydrate

20.8g

Added Sugar

0.0g

Natural Sugar

9.9g

Dietary Fibre

3.5g

Fat

10.0g
Energy

195.5 kcal

Protein

4.5g

Carbohydrate

22.0g

Added Sugar

0.0g

Natural Sugar

9.8g

Dietary Fibre

4.3g

Fat

10.0g
Energy

205.7kcal

Protein

4.8g

Carbohydrate

20.5g

Added Sugar

0.0g

Natural Sugar

10.9g

Dietary Fibre

5.2g

Fat

11.5g
Energy

169.5 kcal

Protein

4.0g

Carbohydrate

23.7g

Added Sugar

0.0g

Natural Sugar

10.9g

Dietary Fibre

4.0g

Fat

6.5g
Reviews
"These lactose-free bars are high in protein, low in sugar and taste excellent - a velvety smooth indulgence that makes snack-time interesting."
Protima Tiwary
"Great Vegan Bars, found them wholesome and super tasty. Each variant is flavourful and like the raw taste of fruits. 10 on 10 from my side."
Sagar Mehta
These fudgy vegan bars taste divine!! It's a great pre game snack , a great mid morning snack and yes most importantly for me this takes care of all my sugar cravings.
Glenn Saldanha
FAQs
Yes all our Energy bars are certified vegan with the protein coming only from plant based sources. They are gluten-free, soy-free, added-sugar free and preservative free too! (just not free-free as we have kids to feed too)
These energy bars have no added sugar, no preservatives, no gluten, no added flavour or colour, no soy, no artificial sweetener and no dairy. Food really doesn't get any cleaner than this! And since they're packed with just nuts, dates and berries, the energy bit you'll feel the moment you dig in!
After you have devoured the energy bars (tough not to) just clean the oil or crumbs which maybe left behind on the wrapper, and put them in the envelope, seal it and drop it in a post box closest to your location. The packs will reach us and we'll dispose of them responsibly, for you! Oh, and don't forget to click a photograph and tag us on Instagram to get your 25% off discount code.
We've tied up with several recyclers and up-cyclers. We'll ensure that all the plastic you send back is either re-used or responsibly disposed off. Not end up in a land-fill or in the ocean.
Yes they are!! After all, they're just nuts, dates and berries smooshed together. They make of a lovely, healthy kids snack! Just please check for nut allergies if the child has any before consuming. Apart from that, the younger they switch to clean energy, the better!