What's inside
swipe to see more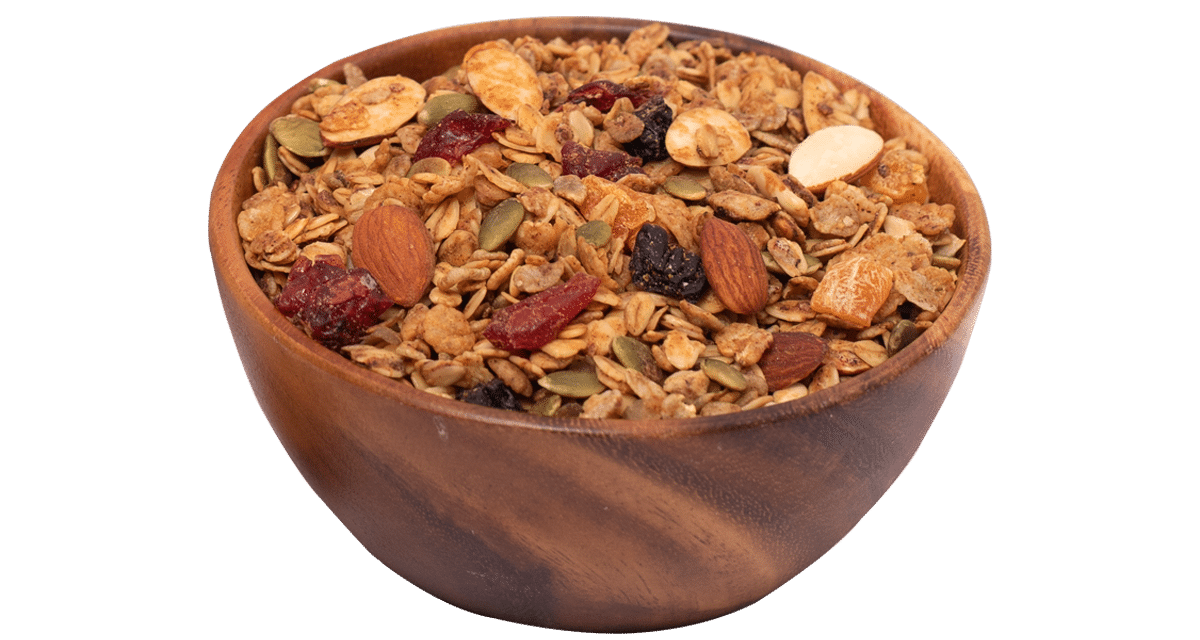 Nuts, Fruits & Seeds Muesli (350g)
whole grains

38%

nuts & seeds

37%

dried fruits

12%

kakvi

12%

cinnamon

1%

plus a dash of orange oil

100%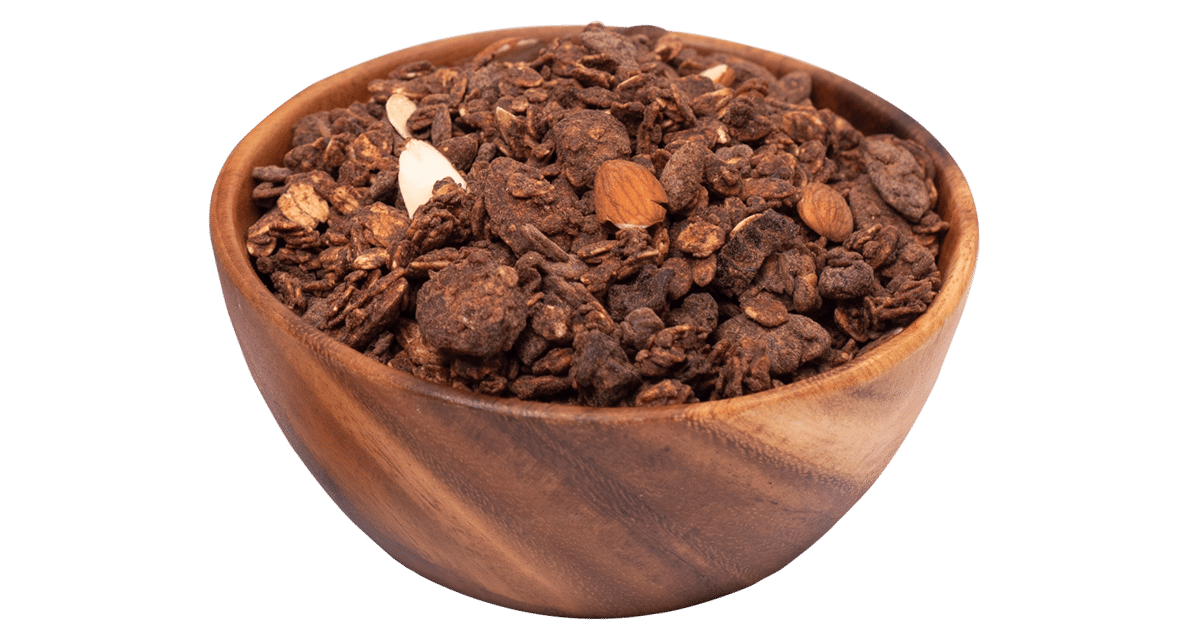 Almond Choco Crunch Muesli (350g)
whole grains

39%

cocoa

21%

dried fruits

17%

kakvi

12%

nuts & seeds

11%

plus a pinch of cinnamon!

100%
Nutritional Facts
Energy

222.4kcal

Protein

8.1g

Carbohydrate

27.5g

added sugar

4.6g

natural sugar (from dried fruits)

3.5g

dietary fibre

4.8g

fat

8.9g

trans fat

0.0g

MUFA + PUFA

7.5g
Energy

229.2kcal

Protein

5.8g

Carbohydrate

29.7g

added sugar

4.6g

natural sugar (from dried fruits)

5.6g

dietary fibre

5.5g

fat

9.7g

trans fat

0.0g

MUFA + PUFA

6.8g
Energy

176.5kcal

Protein

4.2g

Carbohydrate

23.3g

added sugar

3.7g

natural sugar (from dried fruits)

4.1g

dietary fibre

4.8g

fat

7.4g

trans fat

0.0g

MUFA + PUFA

4.3g
Energy

201.0 kcal

Protein

5.2g

Carbohydrate

20.7g

Added Sugar

0.0g

Natural Sugar

9.1g

Dietary Fibre

4.4g

Fat

13.9g
Energy

195.0 kcal

Protein

4.8g

Carbohydrate

20.8g

Added Sugar

0.0g

Natural Sugar

9.9g

Dietary Fibre

3.5g

Fat

10.0g
Energy

195.5 kcal

Protein

4.5g

Carbohydrate

22.0g

Added Sugar

0.0g

Natural Sugar

9.8g

Dietary Fibre

4.3g

Fat

10.0g
Energy

205.7kcal

Protein

4.8g

Carbohydrate

20.5g

Added Sugar

0.0g

Natural Sugar

10.9g

Dietary Fibre

5.2g

Fat

11.5g
Energy

169.5 kcal

Protein

4.0g

Carbohydrate

23.7g

Added Sugar

0.0g

Natural Sugar

10.9g

Dietary Fibre

4.0g

Fat

6.5g
Energy

72.9kcal

Protein

2.0g

Carbohydrate

7.5g

Added Sugar

0.0g

Natural Sugar

5.7g

Fat

3.9g

Trans Fat

0.0g

MUFA + PUFA

2.7g
Energy

66.2kcal

Protein

1.7g

Carbohydrate

9.2g

Added Sugar

0.0g

Natural Sugar

6.6g

Fat

2.6g

Trans Fat

0.0g

MUFA + PUFA

2.2g
Energy

256.2kcal

Protein

12.9g

Carbohydrate

19.6g

Added Sugar

0.0g

Natural Sugar

10.4g

Fat

13.8g

Trans Fat

0.0g

MUFA + PUFA

10.5g
Energy

245.0kcal

Protein

15.0g

Carbohydrate

21.3g

Added Sugar

0.0g

Natural Sugar

12.5g

Fat

11.0g

Trans Fat

0.0g

MUFA + PUFA

8.0g
Energy

235.0kcal

Protein

12.0g

Carbohydrate

21.2g

Added Sugar

0.0g

Natural Sugar

14.6g

Fat

11.4g

Trans Fat

0.0g

MUFA + PUFA

8.3g
Energy

249.0kcal

Protein

12.0g

Carbohydrate

18.3g

Added Sugar

0.0g

Natural Sugar

14.2g

Fat

14.2g

Trans Fat

0.0g

MUFA + PUFA

10.4g
Energy

253.2kcal

Protein

12.2g

Carbohydrate

19.9g

Added Sugar

0.0g

Natural Sugar

10.9g

Fat

13.9g

Trans Fat

0.0g

MUFA + PUFA

8.6g
Energy

245.7kcal

Protein

12.9g

Carbohydrate

19.4g

Added Sugar

0.0g

Natural Sugar

11.7g

Fat

12.3g

Trans Fat

0.0g

MUFA + PUFA

9.3g
no added colour • no preservatives
no added flavour • no soy or gluten
no artificial sweeteners • no false claims
no half-truths
and no hidden * marks either
Verified Reviews
0 out of 5 stars
based on 0 review
FAQs
India is a protein deficient country. And if you're a vegetarian, chances are you're on the wrong side of that statistic. So yes, it's not only gym-going men who need more protein. Expecting moms, growing kids, aging dads - they all do! And if you love nuts and dates - you'll love our bars.
12g. That's about 20% of your recommended daily intake. Delivered in as clean a way as possible. PS: only half the protein in the bar comes from whey. The other half comes from nuts.I'm lactose intolerant, is whey ok for me?
We use WPC 80. That's whey at 80% concentration. The remaining 20% does have some lactose. But in that low a quantity, it usually affects only those who are very sensitive. Best way to check is to try half a bar. Consume more only if it feels good. And do consult your doctor.
Yes. But only from raw, whole dates that we de-pit ourselves. No added refined sugar. No fancy sugar substitute. No artificial sweeteners. Nothing.
Yes! Immunity Balls are completely plant-based! Our Energy bars are certified vegan with the protein coming only from plant based sources. They are gluten-free, soy-free, added-sugar free and preservative free too! (just not free-free as we have kids to feed too)
After you have devoured the energy bars (tough not to) just clean the oil or crumbs which maybe left behind on the wrapper, and put them in the envelope, seal it and drop it in a post box closest to your location. The packs will reach us and we'll dispose of them responsibly, for you! Oh, and don't forget to click a photograph and tag us on Instagram to get your 25% off discount code.
Yes they are!! After all, they're just nuts, dates and berries smooshed together. They make of a lovely, healthy kids snack! Just please check for nut allergies if the child has any before consuming. Apart from that, the younger they switch to clean energy, the better! If no-dairy is so good, why do you use Whey protein in your protein bars? Yup, our Protein Bars have whey. Raw, unadulterated whey which we procure directly from the manufacturer to ensure zero adulteration. And we use whey because it's still the most easily digestible and most bio-available form of veg protein known to man. But, if you believe that Dairy isn't good for your gut (or the planet) then we also want to give you a 100% natural, nutrition rich, snacking option. That's what these bars are…nothing but a gooey mix of fruits, dates, berries and nuts.
Immunity is the body's ability to fight viruses and bacteria. And the Immune System is what does this fighting. Did you know that fever, sneezing, inflammations - are all immunity responses!? Fever is nothing but the body raising its temperature to kill a virus. Sneezing is the body expelling viruses from the respiratory tract. Infact your skin, nasal hair, saliva etc are all part of what's called the Innate Immune System. It's the part of immunity that's always at work, without you even noticing. The second part is called Adaptive Immune system. When we think about boosting immunity, or anti-bodies and vaccines, it's this part we're usually thinking of. Made up of White Blood Cells (WBCs), anti-bodies, B-lymphocytes, T-lymphocytes, bone marrow, spleen etc — it's a complex response system that we very loosely refer to as the Immune System. Viruses that pass the Innate System and require a specific response, are attacked by the adaptive system. And it has immunological memory, i.e. once it has encountered a specific pathogen, it'll be prepared the next time. Unfortunately, we're facing a virus we've never faced before. And hence, we need to strengthen our Immune System.
Well, 'boost' is a misleading word, so we don't like using it. Did you know that no matter what you do, you can NOT increase the number of White Blood Cells in your system! Yes, that's your Immunity army and you can do nothing to 'boost' its size. But yes, you can definitely strengthen your existing troops. By doing 4 simple things. Sleep 8 hours, exercise for 30 mins, reduce constant stress from your life, and eat right. Where the definition of right, in relation to immunity, is eating anti-inflammatory and anti-oxidant rich foods. Remember, food alone can NOT strengthen Immunity. If you're not exercising and sleeping right, nothing will help. And don't let any person or brand tell you otherwise.
Food plays only 2 roles in strengthening Immunity. Anti-Inflammation and Anti-Oxidation. And that's how we designed these two balls. Almost like anti-inflammatory and anti-oxidative shots. They were designed as a system, to complement each other. And that's how we recommend consuming them. One (anti-oxidative) in the morning and one (anti-inflammatory) at night. Ofcourse you can have more if you like (we're told the taste grows on you!). The important thing is making it a habit. Remember, when it comes to Immunity, everyday is everything.