Influencer Marketing is Broken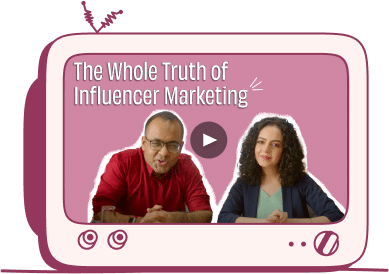 Calling allHonest Influencers
If you're an honest influencer who doesn't like people trying to buy your opinion… then let us buy you coffee.
How do I participate?
Phase 1 - Show us your truth
---
Phase 2 - Do we have love?
How is this different?
from run-of-the-mill influencer engagement?
---
We pay for talent
Not opinion

We don't do
do's & don'ts

We don't stifle
creativity
Meet the Judges
Gul Panag

aviator, actor and producer, biker, entrepreneur, fitness enthusiast

Vani Gupta Dandia

Founder CherryPeachPlum, Former Marketing Director PepsiCo Indian Foods

Suchita Salwan

Co-founder LBB

Varun Duggirala

Co-founder The Glitch, Podcaster

Shashank Mehta

Founder & CEO, The Whole Truth Foods
Timeline
6th Oct, WednesdayDM us a piece of fun, creative and honest content
17th Oct, SundayApplications closed
24th Oct, SundayWe shortlist 50 top entries.
31st Oct, SundayWe send you all our products and discuss collaboration concept
7th Nov, SundayWe announce first batch of The Whole Truth-Sayers
Phase 1
Phase 2
Timeline
FAQs
Anyone who relates to the problem of fake influencer marketing and is interested in creating exciting honest content, can participate.
We're looking for 20 authentic content creators. You could be a photographer, a painter, a traveler, a surfer, a storyteller, anything. All we're asking is your story told in YOUR way. And we'll cover your expenses for making the content that you wish for, uninhibited.
• Genuine, authentic content • Entertaining and engaging • Uniqueness of your idea
Yes, if you have one Instagram or YouTube account, you can participate as a team or a couple.
Yes, of course. The whole point of this program is to enable honest influencers (big or small) to make great, authentic content.
twtsayers@thewholetruthfoods.com